P.E
Lets Get Physical...
This year in PE we aim to get more children Physically Active and involved in more exercise and sports. We aim to provide opportunities for pupils to become physically confident in a way that will support both their health and fitness. Dame Ellen strives to be a healthy school and PE will play an important role in this during the year.
Teachers enable all pupils to participate in enjoyable, exciting and challenging physical activities whilst maintaining the ethos of the School Games.
This year we are continuing to improve our participation in School Sport and Physical Activity.
Well Done Dame Ellen...
Below is our Gold Award.
Our award is displayed on our School Games display board in school
Early Years & Physical Development...
In the Early Years classes Physical Development is a core area of learning. Lambs and Caterpillars enjoy physical activities on a daily basis and use their outdoor area in all weathers.
Physical Development is split into two aspects:
Moving and Handling
Health and Self-Care
We provide activities and equipment to help our young children gain control of their bodies and learn how to keep themselves active and healthy. The children also learn to use equipment and materials successfully and safely as well as having lots of fun!
The National Curriculum...
Once the children leave the Early Years they work within the National Curriculum for P.E
and have access to 2 hours of P.E every week.
During P.E lessons the children focus on developing the core skills and are then given the opportunities to apply what they have learnt.
Physical Education at Dame Ellen Pinsent provides opportunities for pupils to become physically confident in a way which supports their health and fitness.
The National Curriculum for Physical Education at Dame Ellen aims to ensure that all pupils:
develop competence to excel in a broad range of physical activities
are physically active for sustained periods of time
engage in competitive sports and activities
lead healthy, active lives.
P.E Curriculum Overview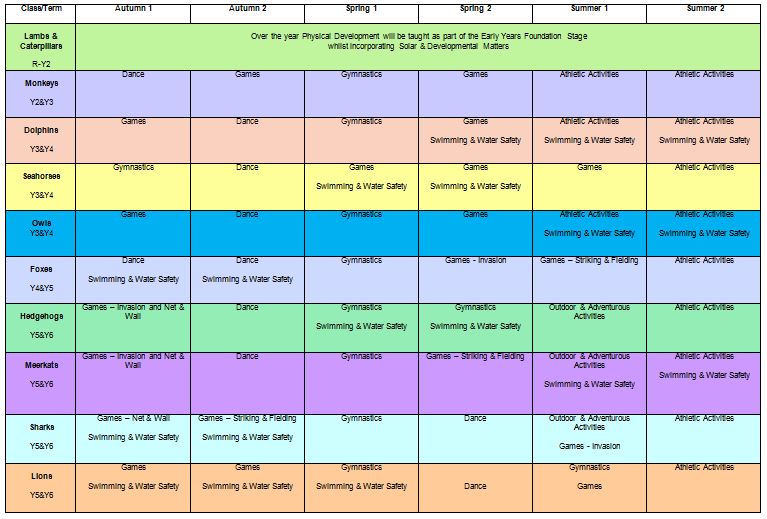 Down load this information here
Physical Activities we provide at Dame Ellen...
Dance, Wake Up Shake Up & Go Noodle!
10 minutes Daily Physical Fun
Gymnastics & apparatus
Athletics
Football
Sitting Volleyball
Swimming
Walking in the school grounds
Outdoor & Adventurous activities
Cycling
Golf
Sport Premium Funding...
This year we are again spending some of our 'Sports Premium Funding' to improve the teaching and learning of Physical Education within our school.
In the past all members of staff and pupils have worked with P.E expert, Michael Hayden. This year we have a new PE Specialist working with us from Bishop Challoner, Sarah Ellis. Sarah is really keen and excited to support our equally enthusiastic members of staff and children. Sarah will be working with teachers, Teasching Assistants and children across the school to improve their confidence and abilities in the teaching and deliverance of P.E.
The children are already having great fun and making progress in their lessons. Thank You Sarah we know you are going to have a great impact here at Dame Ellen.
Take a look at the Key Information Page to read more about how we are spending our Sports Premium Funding this year and for the new impact and expenditure report for 2019-2020